Wharos5 Whirlpool Reverse Osmosis Water Filter Review
---
The Wharos5 reverse osmosis water filter by Whirlpool is ready to improve your water quality
Drinking pure, high-quality water is essential for your overall health. Whether you draw water from a well or are concerned about the real quality of the municipal water in your area, a reverse osmosis water filter – such as the Whirlpool Wharos5 Reverse Osmosis – can help.
---
Wharos5 RO Technical Aspects
Flow Rate
- 18.4 gal/day.
Water Source
- Well and municipal.
Water Pressure (psi)
- 40 to 100.
Dimensions
- 13.2 x 15 x 13.2 inches.
Filter Material
- Activated carbon and 0.1um membrane.

No of Stages
- Three (3) stages. See Filter section for details.
Filter Lifespan (months)
- Pre and post carbon filter: 6 months.
- Membrane: 1 to 3 years.
Certifications
- It has NSF certifications on standards 58.
Efficiency
- 2:1.
---
This RO under-sink water filtration system can remove most contaminants found in drinking water, purifying it and enhancing its taste. Read our Wharos5 review to find out more.
---
About this RO System?
Known as Whirlpool UltraEase by its commercial name – is a reverse osmosis water filtration system developed by Whirlpool.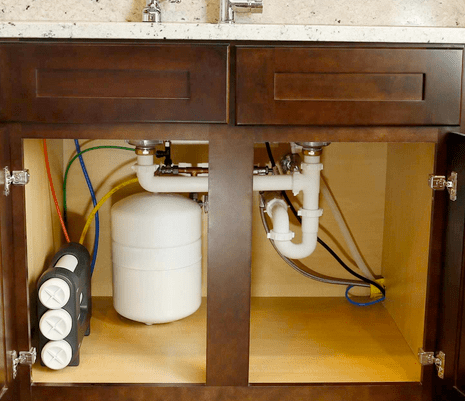 It aims to deliver bottled water quality at your kitchen sink by reducing the most common contaminants found in municipal drinking water or private well supplies.
The under-sink filter is characterized by a very compact footprint and a simple installation, and it even comes with its own faucet for quick, fuss-free use.
---
Contaminants Removed by this RO System

Through its 3-stage filtration, it can remove a wide range of contaminants, including sediment, dissolved solids, as well as most chemicals.
It also successfully removes chlorine and fluoride. This two (2) chemicals are added to the municipal water for disinfection.
Like most reverse osmosis filters, this UltraEase model can also remove lead and arsenic, as well as microbial cysts.
A lack of UV light limits its antibacterial properties, but overall, you can expect to drink purer, healthier, better-tasting water.
Very Important Note
This RO filtration system was not designed to treat water that could be potentially be micro-biologically contaminated. If you do need to do it, then get a system that includes UV treatment. Please see our RO Water filter section to find a few alternatives.
---
How to Setup, Operation and Maintenance the Wharos5
This Whirlpool reverse osmosis system is easy to install either by handy homeowners or a plumber. Due to its compact dimensions, it occupies a really little space under that sink, and it's a great choice for a small apartment or studio.
A thing we truly like is that it comes with almost everything needed for a fuss-free setup. While some fittings may not be included in the package, you can find all additional parts at most home department stores.
As you could expect, the area needs little to no preparation. Just turn off the hot and cold water valves to prevent accidents, then install the filter on the cold water supply pipe and connect it to a drain. The system comes with a storage tank and faucet, which are also easy to setup.
Comprehensive instructions make this step easy, so you can leave the guesswork out of the game and get the installation right quickly and easily.
Once installed, the Whirlpool reverse osmosis Wharos5 is very easy to operate. Just turn on the system's faucet to get clean, fresh drinking water.
While the system utilizes cold water from your main supply, it also allows you to keep two water lines. In other words, you can use filtered water for drinking or washing vegetables, or unfiltered water for doing dishes.
A thing to keep in mind is that the system has a lower pressure than the water pressure provided by the main faucet. Luckily, the storage tank can keep sufficient drinking water for fast glass filling whenever you're thirsty.
Lastly, we advice you check the conditions of the included battery that powers the LED indicator; the last thing you want to happen is having a faulty battery.
Like all reverse osmosis systems, this one requires periodical maintenance. Depending on the pH level of the water in your area, the filter cartridge should be replaced every 6 to 12 months (for the pre and post filter).
Typically, the higher the pH level, the more frequently you'll have to replace the filters.
For the membrane filter, the manufacturer recommends to replace it between one (1) to three (3) years. I think this is quite a range so keep an eye on the quality of your final water.
High levels of chlorine may also damage the filters faster than water with lower levels of the chemical.
The replacement filters are readily available on the manufacturer's website. To change them, all you have to do is follow the simple steps in the system's instructions booklet.
We recommend you test you water before the first time of using the water filter and every 1 year for verification.
Filters apart, you will also have to change the LED battery when drained. The operation is as simple as it gets; all you have to do is unscrew the right side of the faucet base to access the battery compartment and replace it with a compatible CR2032 battery.
The system also comes with a troubleshooting cheat sheet you can use to solve most issues.
Important Facts
System sanitation: Before the first use, it is important to sanitize the filtration system. If you ended up buying the Wharos5 RO filtration system, you can use the included eyedropper to inject bleach (5.25%; that is 3 ml). This is enough to eliminate any foreign material going into the system during the installation.
Purging the system: once the bleach has gone through the system, it is important you purge it. The manufacturer recommends to run it for approx 24hr before you drink the first glass of water.
---
Downsides
While it is fantastic considering its price point, it comes with some downsides too.
Perhaps the greatest is the rather scarce quality of the faucet. Sure, you can easily replace it with a better quality one, but you should still know that the one it comes with is rather cheaply made.
We think the system has limited treatment capabilities compared to other RO system in the market. You should be testing your water supply quality periodically to avoid issue with other contaminants.
Apart from these small annoyances, the Wharos5 brings true value for money and is undoubtedly a great reverse osmosis system for most homes.
---
Whirlpool Wharos5 Review Final Thoughts
This Whirlpool UltraEase RO water filter is one of the best home reverse osmosis water filters. It comes at an affordable price point; it can remove most contaminants from municipal or well water, easy to install and requires little maintenance.
Despite of many positive aspects, it has some limitations, but as long as you have tested your water, this is a great option for getting clean, tasty drinking water.
Helping you save a lot of money by ditching bottled water, the Whirlpool Wharos5 reverse osmosis system is surely worthy of your attention.
Images courtesy by Whirlpool Water Solutions.
---
What do you think about this RO system?
Operation & Maintenance
4.6/5
What we like
✅ The system is very easy to install without the help of a plumber.
✅ Indicator lights let you know when it's time to change the filters.
✅ The system comes with a lot of features to ensure you filtered water is the best.
What we do not like
⊖ The quality of the faucet is very standard. This is not too different from other filtration systems that include a faucet.
⊖ Only three (3) stages, which limits the removal of other common contaminants.