Brita Faucet Filter Review: On Tap Water Filtration at its Best.
---
Brita faucet filter contains everything you would expect from a quality on tap water filtration system.
Brita is one of the most popular companies when it comes to production of quality faucet filters. One of the top rated products from this company is the Brita faucet filter;  it is stylish, compact and very effective in removing impurities and chemicals from water.
As compared to other tap filters such as the DuPont WFFM350XCH, it saves your space by 40%. It is very versatile because you can choose either filtered or regular water (not filtered).
Below is the detailed Brita on tap filter review. Have a look and get to know why it is among the best faucet filters on the market.
---
Brita Faucet Filter Technical Aspects
First of all, these are the technical aspects this tap water filter has. Check them carefully to understand if it will be the right one for you:
Main Features
Pollutants Removed
Flow Rate and Water Pressure
Filters (Material and Lifespan)
Water Source
Warranty & Certifications
Main Features
 - One-click installation.
 - Stain resistant chrome finish.
 - Easy to fix on any standard faucet without tools.
 - Status indicator alerts you in case you need to replace the filter.
 - It comes with 1 compatible filter.
Pollutants Removed
This device is able to filter up to 60 contaminants which includes
 - 99% of metal including but not limited to lead, cadmium and mercury.
 - Traps 99.99% cysts.
 - Chlorine - including taste and odor.
 - Asbestos.
 - Trichloro ethylene.
 - Particulates Class I.
Flow Rate and Water Pressure
Flow Rate:
1 GPM. This filter can provide "up to" three (3) water flows including stream, spray and filtered water. This is among the rare features you cannot find in many filters.
Note: we say "up to" because the chrome Brita faucet filter version only has two (2) water flows; the white version is the one that has the three (3) flow features. 
Water Pressure:
The minimum and maximum pressures handled by this on tap water filter is 20 to 100 psi. 100 psi is way to high though!
Filters (Material and Lifespan)
Material:
 - Activated Carbon (GAC).
Lifespan:
 - Four (4) months or 100 gallons, which ever comes first.
Dimension:
This product measures 2.4 X 6.1 x 8.5 Inches and has a weight of 0.6 ounces.
It is also compatible with all standard faucets, however it was not created to be fitted to faucets with a pull down spray system.
Water Source
This faucet filter was designed to filter only municipal water. Any water that comes directly from other sources such as rivers or private wells can damage the filter (also consider the different pollutants that will not be removed).
Warranty & Certifications
Warranty:
 - In terms of warranty, Brita tap water filter comes with a 1-year limited warranty. This means that you don't need to worry about any problems that may occur within the first year.
Certifications:
 - Watersense
---
What to Consider before Buying the Brita on Tap Filter
Filters and Pollutants Removed
One of the major benefits of using a Brita faucet filter is that it is able to remove more than 60 contaminants including 99% of lead, chlorine, asbestos and volatile organic compounds like benzene. It also removes chlorine taste and odor.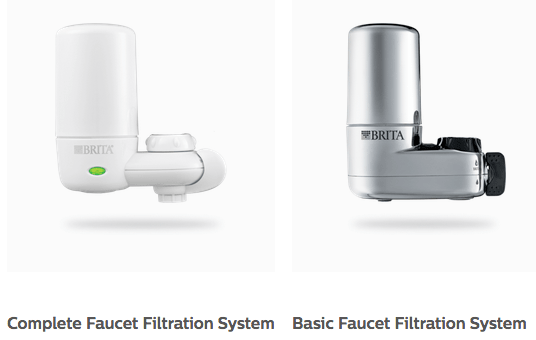 As regards to the filter, it uses a single cartridge made of activated carbon, medium that is capable of removing most of he contaminants present in chlorinated water. Apart from cleaning the water, it also enhances the taste of the water coming from the faucet.
In addition, it comes with an additional layer that sieves sediment and other particles that may be available in the water.
Additionally, the faucet is able to filter up to 100 gallons of tap water. This means that it replaces plastic water bottles by 750 standard 16 oz. The beautiful chrome finish enables it to match with your kitchen décor.
If your water has unpleasant chlorine smell, Brita on tap is the best to install if you want to solve this problem completely.
Lastly, it also has an alerting system when is time to replace the filter. It is recommended to replace the filter after four (4) months of use, if you want to get the best results.
Operation & Maintenance
The filter is very easy to install and maintain and you won't even require any tools during installation. Below are the steps you should follow:
Start by unscrewing the aerator from the faucet.
In case the thread is on the outer part, you will need to use an adapter. However, if they are inside, you can use just one of the adapters or washers provided.
Make sure you have picked the right washer and adapter for your faucet. In case they do not fit you can contact the Brita customer care.
Fix the base of the system to the faucet.
Using one hand, support the base of the system and fix the filter cartridge into the filter cup. You will hear a click sound after you have fixed it correctly.
Hold the filter cartridge carefully above the filter cup. Ensure that the insert groove is in line with the grove inside the filter.
After you have done this successfully, a green light will appear after 10 seconds.
Flush the new filter for 5 minutes. The 100 gallons filter lifespan will start after the 5 minutes flush.
Always replace the filter after it has filtered the indicated amount of gallons of water or after four (4) months.
…The Flip Side
The filter was not designed to reduce the total dissolve solids drastically; this means if your water has noticeable high levels of TDS then this will not the filter you should buy; instead, go for an under sink water filtration system like the Aquasana AQ 5300.
---
Brita Faucet Filter Review: Final Thoughts
If you use hard water in your home, this one will be the best faucet water filter you should consider.
You will find that it is very effective in removal of soluble contaminants from water. Apart from that, it has a plastic build (BPA free), which is very reliable in dealing with hard water as compared to metallic materials.
In terms of dispensing water, the Brita faucet filter provides a better performance than other filters because it has up to three (3) flow rates; it is up to you what your requirement is.
---
Is there something you would like to share with other users? Please review bellow:
Operation & Maintenance
3.8/5
What we like
Easy to install.
Additional layer for trapping sediments.
Light indicator for filter replacement.
What we do not like
It is not compatible with spray style faucets.
Filter holder hardware has a poor design.
Leakage problems.